Education Program
Prairie Learning Center is licensed through the North Dakota Department of Public Instruction as an approved school for grades 5 - 12. Each content area teacher is Highly Qualified and is teaching within that content area. On the PLC staff, there are 6 full-time equivalent education teachers, one special education coordinator, a few teaching assistants, and one administrator, as well as various residential staff who support the school. The school program includes a wide variety of academic classes, basic life skills, physical education, recreation, arts, crafts, outdoor education, continuing education, and prep and administration of GED tests. PLC is an approved GED test site. We also provide a summer school session to allow students to maximize their potential. PLC provides a low student/teacher ratio for individual instruction. Full education report cards will be sent after then resident is discharged.
The school has also adopted a after school tutorial setting where students can receive additional help from the staff as needed or desired. Each student who is enrolled at PLC is assessed in the areas of all subjects by the staff within thirty days of their admission and again prior to the end of the school year. Retesting occurs prior to discharge, if prior notification is given. The goal is for every student to have a pre- and post-test within a given school year.
Students are on either a current IEP, 504 plan, or a education accommodation plan created by PLC staff, the students, parents, referral agencies, home school districts, and other appropriate parties. Through a cooperative spirit, PLC strives to provide the best possible educational opportunity for its students. In addition, teaming with the sending school's counselors, special education unit, and administrative personnel is completed to ensure that each student's social, health, and education needs are met.
Any questions? Please call us at 701.597.3419.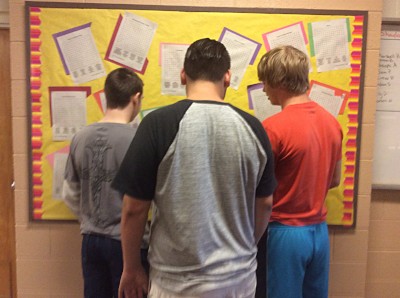 Word Find Board